Already looking for fun spring activities for the family to enjoy?
April 24th to April 30th Final week of the month Open 10 am to 5 pm pending weather for general public and/or group reservations.
Weekday:  $10.95 age 2 and up per person
Weekend:  $12.95 age 2 and up per person
*If severe rain site may be closed for the day, check the status to the right (Weather Closings).
Map of Activities *Please note the Cow Train on Map is seasonal for Fall
---
Make sure all your friends and family sign up for our Newsletter to enjoy keeping up to date with all we have to offer and promotions. This year we have been keeping a secret, so be prepared to light up your Spring nights. The First annual "Spring Light Show" . . . Here is just a sneak peak. Tickets for the Spring Light Show 2017 on Sale Now!
---
Community Garden Plot Rental Program available at the farm
Ticonderoga Farm provides local residents of the surrounding areas the opportunity to participate in a community gardening experience through the Community Garden Plot Rental Program here at the farm. We have garden plots that are rented on an annual basis. Your Garden Plot Rental Includes: Free Subscription to Better Homes and Garden Magazine or Martha Stewart Living, Deer-proof fencing surrounding outer perimeter, Full southern exposure to sun, 10 hour daily minimum, On-site water hookups, Options for roto-tilling and composting services are available for additional fee – For more information visit COMMUNITY GARDEN.
Also, be sure to check out our FACEBOOK PAGE for regular updates!
We look forward to your visit!
Spring Festival on March 25, 2017 – April 23, 2017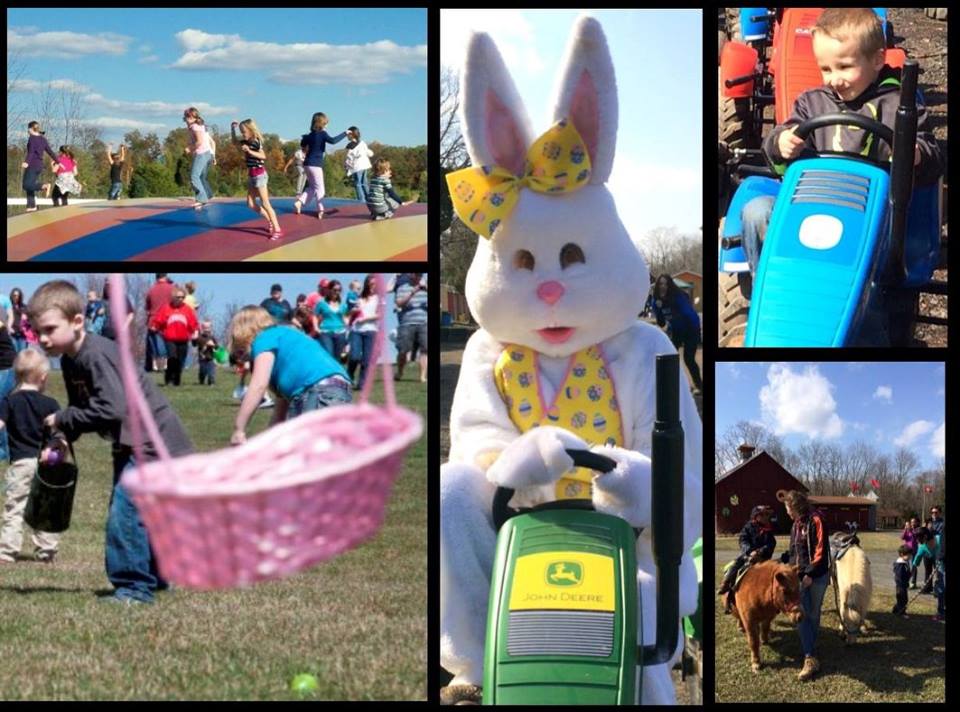 Weekend Easter Egg Hunts  & Activities Admission Ages 2 & Up $14.95 per. Hunts will take place promptly at 11 AM and 2 PM on Saturdays and Sundays, during our Spring Festival dates.
Please arrive and check in 30 minutes prior to hunt time. Easter Baskets must be utilized, no large back packs or bags. The Hunt is set up so that each child obtains a typical Easter basket full of eggs (25). 
Meet and Greet with the Easter Bunny 30 minutes prior to the hunt time and find the Golden Goose Egg for an extra special prize! There are many other activities included with your admission to enjoy, including: giant slide hills, huge jumping pillows, hayrides, animal feeding areas, pedal kart track, swinging bridge, and much more!
There will be 3 different age groups in separate areas for each Egg Hunt: Ages 0-3, 4-6, and 7+.
Food vendors will be on-site for Full Plate items, tasty treats and snacks from 11 am-4 pm. *The pillow and pedal karts shut down at 4 pm.
Entrance gate will close at 4:00 PM daily. *Pets are NOT allowed. An ADA approved vest/hanger wearing service animal is allowed. 
Weekday Activities Admission Ages 2 & Up $10,95 per. Private Egg Hunts are available for group
reservation visits during the weekdays, upon request,for an additional $2.00 per person.
Snacks and drinks available in the Market.