Fig Pizza – Figalicious!
This may be done with either store bought frozen pizzas and use the topping (figs, arugula, pomegranate glaze), or one can start from scratch.
From scratch, pizza dough in a ball allowed to rise, one tablespoon extra virgin olive oil, 1/4 pound fontina or for us, the best is gorgonzola dolce cheese, cut into 1/4 inch pieces, 1/3 cup grated parmesan cheese, 5 cups of baby arugula and 10 medium sized sliced figs, ¼ inch thick, (frozen figs work perfectly and they last for months in the freezer while fresh figs have only a couple of days shelf life to be at their best).

If frozen do not defrost before cutting, but a five minute warm up at room temperature can make cutting easier. If allowed to fully defrost they will turn to mush and though tasty, very hard to work with. If desired one can add very very thinly sliced onion (1/4 cup) before adding figs as below.

For a special treat drizzle one tablespoon of pomegranate glaze (Trader Joe's not expensive) on top of arugula as below.
Thereafter treat as you would any pizza, scatter gorgonzola over pizza, then scatter fig slices and finish with parmesan cheese, place in oven and bake until cheese bubble and dough is crisp and brown 10 – 15 minutes. Immediately sprinkle with arugula leaves and serve!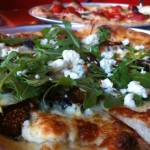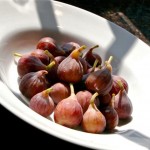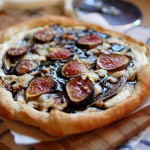 ---
Here is Another Recipe Idea with Figs!