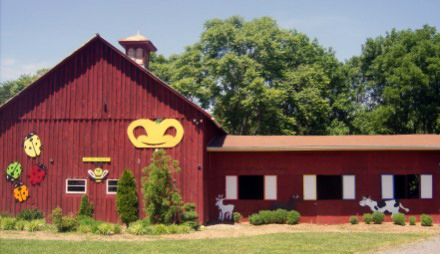 "Amazing Farm Fun @Ticonderoga is a 5th generation, family owned and operated farm of 1,000 plus acres of rolling fields and forest. It is one of the last surviving family farms in Eastern Loudoun County."
Admission includes a hayride, incredible sliding hills, two huge bouncy pillows, panda bamboo maze, 1 pedal cart ride (toddler and big kids tracks), willow maze, Noah's Ark, Tot Land, tire play, swings and more…..
Enjoy on-site food vendors, Domino's Pizza by-the-slice, funnel cake, popcorn, cotton candy, Farm Market goodies and more…..
Check us out on Face Book for weekly specials, additional activities and events!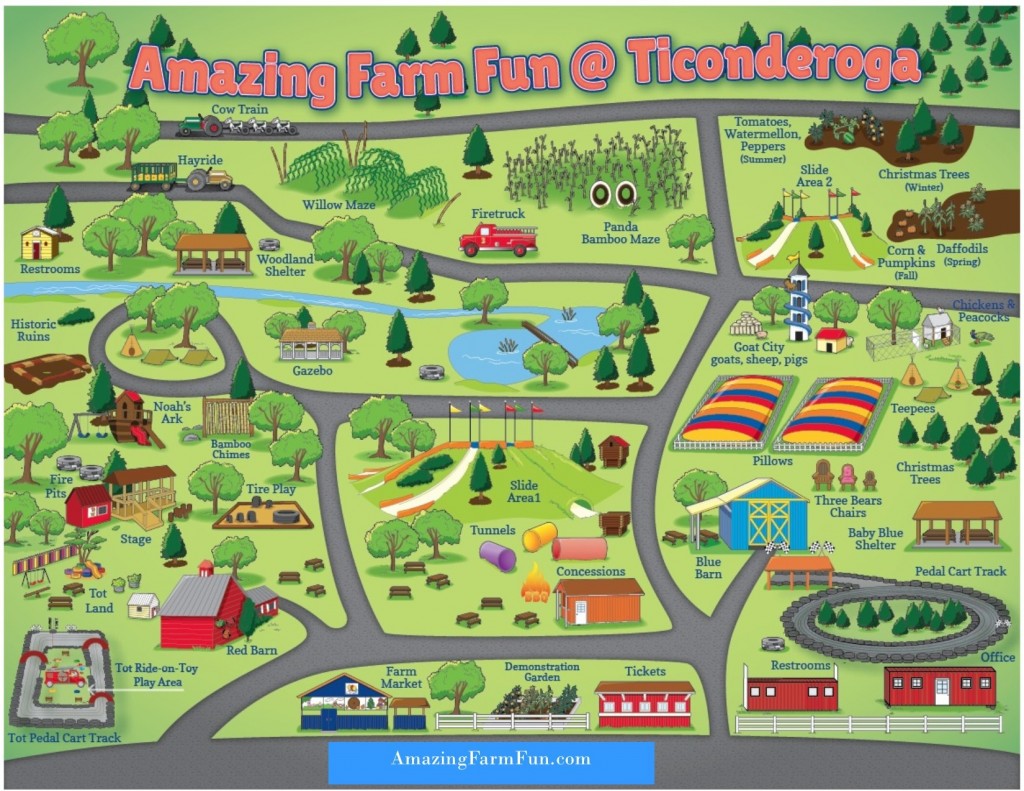 Spring Easter Festival
Enjoy our Spring Easter Festival with egg hunts and the Easter Bunny. Over 4,000 daffodils were planted in 2009.  Annually, all our visitors enjoy the fresh clean crispness of spring with all the blooms and colors. 
Summer Harvest Festival
Fresh figs, tomatoes and other vegetables for our summer harvest have always been a favorite at the family dinner table. Expanding our gardens and groves in 2008, we now have Summer Harvest Festival.  In addition we open our "barn doors" for birthdays, groups and corporate picnics. Our facilities are just the right place for any type of gathering with outdoor "open space" atmosphere to enjoy.
Fall Pumpkin Festival
In 2008 we planted our first pumpkin patch to provide the true hands on experience for "Pick Your Own" pumpkins. With our pumpkin patch, gourds, and many additional fall attractions, we continue each year with our Fall Pumpkin Festival. 
Winter Christmas Festival
The first Christmas tree "Choose & Cut" party was held here in 1951 cutting wild cedar trees. Within a few years, we learned to shear the wild trees to make a more perfect Christmas tree. "Choose & Cut" grew with White Pine and Scotch Pine in 1977 and continues today with our Christmas Festival. 
Activities for Kids
Boy Scouts, Girl Scouts and school groups visited the farm in 1980 to learn about the great outdoors. Since then we have continued to expand to serve the ever growing local and distant communities. Planting and harvesting as a family, we grew to understand many things that are fun about farming and we share that experience with kids along with providing lots of fun activities.
Come and See Us!
We do look forward to seeing you as you enjoy our expanded grounds, new plantings and other activities we have been hard at work preparing for you and your family to enjoy.
We Welcome You!
Sincerely,
Amazing Farm Fun @ Ticonderoga Family