Welcome to Ticonderoga Farms Suburban Community Garden! 
The benefits of community gardens are long term and adaptable to changing circumstances. Because they restore a public realm to suburban existence, community gardens are elements for sustainable communities. Because of its social benefits, it is appropriate for us as a local farm, to have a role in the implementation of this community garden on our property for our neighbors and supporting friends.
Who Can Obtain A Garden Spot:  "Friends of the farm local to us and neighboring areas are welcome to rent a spot as they are available." Residents of South Riding, Stone Ridge, Kirkpatrick Farms, East Gate, Cedar Crest, Va Manor, Dawson, Arcola, Aldie and the other communities local to us may apply to rent a spot as they are available. The garden spots will be assigned on a first come first serve basis, beginning on the North end of the Gardens.  Groups from Churches, Schools, Youth Groups, Scouts and others are encouraged to participate also. If we are within a comfortable driving distance for you, come and join today.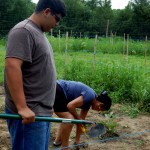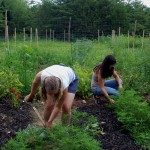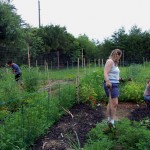 ---
Benefits of Community Garden
Conveys an appreciation for the local farming community

Demonstrates the value of in-season food that is locally sourced

Improves the quality of life for people in the garden

Provides a catalyst for neighborhood and community development

Creates opportunity for recreation, exercise, therapy, and education

Provides opportunities for intergenerational and cross-cultural connections

Creates income opportunities and economic development

Reduces city heat from streets and parking lots

Stimulates Social Interaction

Encourages Self-Reliance

Beautifies Neighborhoods

Produces Nutritious Food

Reduces Family Food Budgets

Conserves Resources

Reduces Crime

Preserves Green Space
---
Grow Your Healthier, Safer Vegetables & Fruits
Eat Organic & Save Money – Secured Deer Free Site – Water on Site – Compost Available                                                                                             
Gardening Special
Try It Out – 12 x 20 Spot – $49.00 per year with a Free Subscription to Better Homes and Garden Magazine
2014 Spring Season- Open house enrollment Saturday March 1 from 1 pm to 4 pm, hope to see you there. Or you can download the agreement form below at any time to join and send via email to AdminAssist@Ticonderoga.com. Just keep in mind better to sign on March 1 to March 15 to start planning for your Spring kick off garden spot. All are on a first come first serve basis throughout the year. At the start of the season pending weather March-April we offer a package for us to rotter-till and compost your garden for an additional fee* on the days we have set up during those months. We look forward to seeing you and Happy Gardening.
*The Garden Spots are NOT plowed – If participants want them to be plowed, there will be an additional charge of $35.00 for cultivating to a depth of minimum 5 inches.  If participants want compost added during the time of cultivating, there will be an additional charge of $25.00.
CLICK TO DOWNLOAD AGREEMENT FORM (PDF)